ESET The Alpha Mail at the centre of your networks security
Kerio Connect (formerly Kerio Mail Server) offers cross-platform collaboration, wireless mobile synchronisation, robust email security and automated backup. Businesses rely on Kerio Connect to share and protect critical information.
ESET secures Kerio Connect with the most advanced proactive antimalware technology on Windows(1) and Linux(2) platforms. ESET's ThreatSense® engine uses advanced heuristics to detect and clean most emerging threats as they are released, not hours or days later. This can mean the difference of having the information engine of your company revving or grinding to a halt.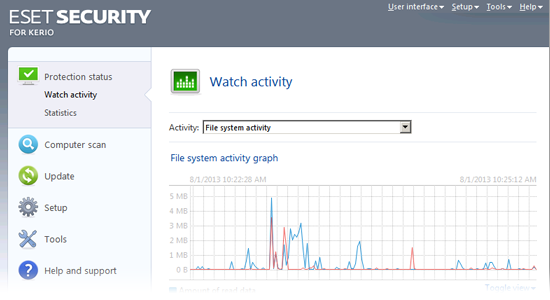 Using the adaptive ThreatSense® scanning engine to identify both familiar and emerging threats, your ESET security solution shields your data from trojans, viruses, worms, adware and spyware – while keeping your company inboxes free of unwanted email.
1 Kerio Connect for Microsoft Windows is protected by ESET Kerio Connect Mail Security.
2 Kerio Connect for Linux is protected by ESET Mail Security for Linux/BSD/Solaris.
Supplied with our remote administration console for ease of rollout and ongoing management across all platforms.